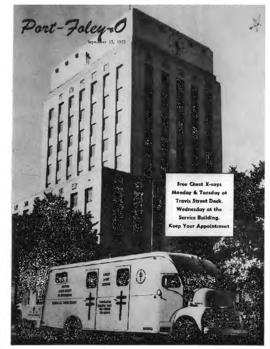 San Jacinto Lung Association records
The San Jacinto Lung Association records include correspondence, legal documents, budgets, tuberculosis statistics, committee reports and minutes, printed materials, scrapbooks, articles, christmas seals, and photographs that document the history, community services, staff and administration of the San Jacinto Lung Association. Most notably, the collection highlights the organization's public health programs to prevent and control tuberculosis as well as its Christmas Seal fundraising campaigns.
The materials are arranged in three series: Organization Records (1911-1993), Photographs (1895-1969), and Scrapbooks (1924-1974). The collection equals 13 cubic feet (12 document and oversize boxes).The materials are in fair condition. Some items were damaged or lost during the flood caused by Tropical Storm Allison in 2001.
San Jacinto Lung Association