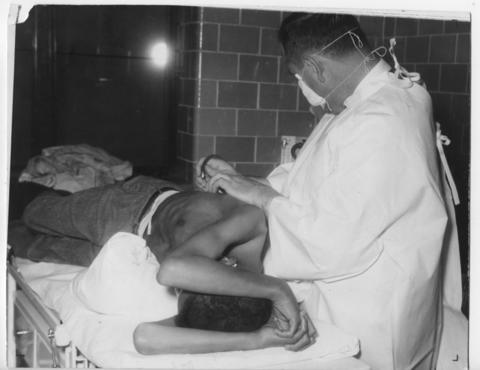 Elementos de identidad
Código de referencia
IC034-P776-001
Nombre y localización del repositorio
Título
Pneumothorax clinic in the basement of Jefferson Davis Hospital
Área de contenido y estructura
Alcance y contenido
Photograph Presenting a Medical doctor examining a pateint on the exam room at the Basement of Jefferson Davis Hospital, Pneumothorax Clinc. Houston(Tex).
Condiciones de acceso y uso de los elementos
Condiciones
Creative Commons License 4.0, Attribution-NonCommercial-NoDerivs. Images are to be used for educational purposes only, and are not to be reproduced without permission from The TMC Library, McGovern Historical Center, 1133 John Freeman Blvd, Houston, TX, 77030, mcgovern@library.tmc.edu, 713-799-7942
Escritura(s) de los documentos
Notas sobre las lenguas y escrituras
Instrumentos de descripción
Generated finding aid
Elementos de adquisición y valoración
Valoración, selección y eliminación
Elementos de material relacionado
Existencia y localización de originales
IC 034 San Jacinto Lung Association, P-776
Existencia y localización de copias
Unidades de descripción relacionadas.
Descripciones relacionadas
Elemento notas
Identificador/es alternativo(os)
Área de control de la descripción
Puntos de acceso
Puntos de acceso por materia
Puntos de acceso por lugar
Puntos de acceso por autoridad
Tipo de puntos de acceso
Objeto digital (URI externo), área de permisos
Objeto digital (Referencia), área de permisos
Objeto digital (Miniatura), área de permisos