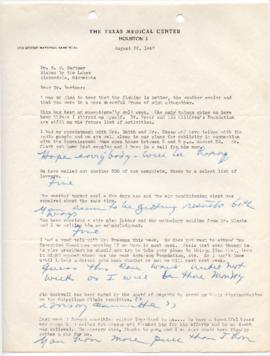 Correspondence Between EW Bertner and Susan Barnett About the Texas Medical Center
This folder contains correspondence between E. W. Bertner and Susan Barnett about the Texas Medical Center. Much of it takes place while Bertner is in Minnesota, and Susan Barnett provides typed updates on TMC business. In many cases, E. W. Bertners' handwritten replies appear in-line, with additional notes at the end.
Barnett, Susan "Sue"