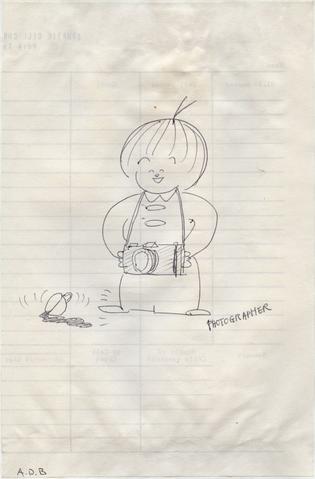 Identity elements
日付
circa 1967-1970 (creation)
Content and structure elements
範囲と内容
Cartoon of Dr. Arthur D. Bloom. He is whimsically portrayed as holding a camera with a teacup spilled on the ground.
Conditions of access and use elements
アクセスの条件
Creative Commons License 4.0, Attribution-NonCommercial-NoDerivs. CC BY-NC-ND. Images are to be used for educational purposes only, and are not to be reproduced without permission from The TMC Library, McGovern Historical Center.
Languages of the material
Generated finding aid
取得と評価・選別に関する項目
収蔵状況の経緯
According to Dr. Howard Hamilton, when Dr. Hamilton was the Chief of Clinical Laboratories Dr. Akio Awa was the assistant to the Chief and head of the Chromosome Section. Dr. Awa and Dr. Hamilton would sit next to each other during many of these staff meetings, and Dr. Awa would create these 'doodles.' Dr. Awa would leave his cartoons behind, and Dr. Hamilton reported collecting them afterwards. The 'originals' or those that represent the 'Ur-text' are found in folder 1, and these were donated in 2002 by Dr. Hamilton. The additional folders 2-4 were donated before 2002, and the cartoons in these folders were called copies to the originals by Dr. Hamilton.
関連資料エレメント
原本の存在と所在
MS066 Howard B. Hamilton, MD papers, Series 6
Notes element
一般の注記
Cartoon created at the Atomic Bomb Casualty Commission research center in Hiroshima, Japan between 1967-1970
Description control element
デジタルオブジェクト (外部URI) rights area
デジタルオブジェクト (レファレンス) rights area
デジタルオブジェクト (サムネイル) rights area