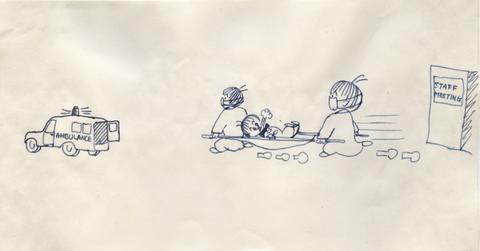 Elementos de identidad
Código de referencia
MS066-006-041c
Nombre y localización del repositorio
Título
[Don't Get Too Carried Away]
Fecha(s)
circa 1967-1970 (creation)
Área de contenido y estructura
Alcance y contenido
Cartoon of Dr. Howard B. Hamilton carried on a stretcher into an ambulance after nearly dying from boredom in a staff meeting.
Condiciones de acceso y uso de los elementos
Condiciones de acceso
Creative Commons License 4.0, Attribution-NonCommercial-NoDerivs. CC BY-NC-ND. Images are to be used for educational purposes only, and are not to be reproduced without permission from The TMC Library, McGovern Historical Center.
Escritura(s) de los documentos
Notas sobre las lenguas y escrituras
Instrumentos de descripción
Generated finding aid
Elementos de adquisición y valoración
Historial de custodia
According to Dr. Howard Hamilton, when Dr. Hamilton was the Chief of Clinical Laboratories Dr. Akio Awa was the assistant to the Chief and head of the Chromosome Section. Dr. Awa and Dr. Hamilton would sit next to each other during many of these staff meetings, and Dr. Awa would create these 'doodles.' Dr. Awa would leave his cartoons behind, and Dr. Hamilton reported collecting them afterwards. The 'originals' or those that represent the 'Ur-text' are found in folder 1, and these were donated in 2002 by Dr. Hamilton. The additional folders 2-4 were donated before 2002, and the cartoons in these folders were called copies to the originals by Dr. Hamilton.
Valoración, selección y eliminación
Elementos de material relacionado
Existencia y localización de originales
MS066 Howard B. Hamilton, MD papers, Series 6
Existencia y localización de copias
Unidades de descripción relacionadas.
Descripciones relacionadas
Elemento notas
Nota general
Cartoon created at the Atomic Bomb Casualty Commission research center in Hiroshima, Japan between 1967-1970
Identificador/es alternativo(os)
Área de control de la descripción
Objeto digital (URI externo), área de permisos
Objeto digital (Referencia), área de permisos
Objeto digital (Miniatura), área de permisos