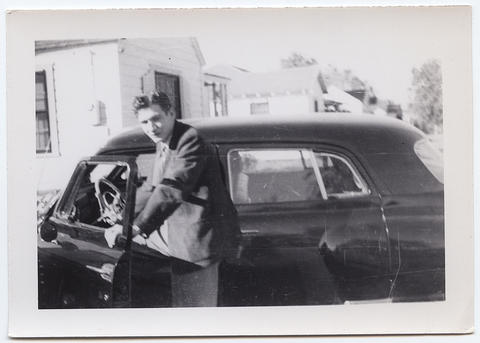 Elementos de identidad
Código de referencia
MS236-019
Nombre y localización del repositorio
Nombre del productor
(1923-1990)
Historia biográfica
Dr. Paul Lenksy was a pediatrician practicing in Houston, Texas.
Lensky was born in Galveston on November 16, 1923. He attended the University of Texas in Austin and graduated from the University's medical school in Galveston in March 1946.
Following graduation, he interned at Lincoln Hospital in the Bronx, New York. In 1947-1948 he was a staff physician in pediatrics at Jefferson Davis Hospital in Houston. The photographs in MS 236 Paul Lensky, MD Photograph Collection date from that time.
His next move was a one-year residency at Louisville General Hospital. He returned to Houston in July 1949 and took up a residency in pediatrics at Hermann Hospital. He was later on the staff at Texas Children's Hospital.
Dr. Lensky married Eleanor Ruth Waldman on April 12, 1959 at Temple Emanu El in Houston. The couple had a son, Mark, born May 13, 1960.
Dr. Lensky was a veteran of the US Army Medical Corp., a member of Harris County Medical Society, the Texas Pediatrics Society, and the Houston Pediatrics Society. He was a member of Congregation Beth Israel and Congregation Emanu El, as well as the Westwood Country Club, and served as Secretary of B'Nai B'Rith in Houston.
Dr. Lensky died May 23, 1990.
Área de contenido y estructura
Alcance y contenido
Fred Weller opening the door to get into a car (1946-1948 Studebaker Champion).
Condiciones de acceso y uso de los elementos
Condiciones
Creative Commons License 4.0, Attribution-NonCommercial-NoDerivs. Images are to be used for educational purposes only, and are not to be reproduced without permission from The TMC Library, McGovern Historical Center, 1133 John Freeman Blvd, Houston, TX, 77030, mcgovern@library.tmc.edu, 713-799-7899
Escritura(s) de los documentos
Notas sobre las lenguas y escrituras
Instrumentos de descripción
Generated finding aid
Elementos de adquisición y valoración
Valoración, selección y eliminación
Elementos de material relacionado
Existencia y localización de originales
Existencia y localización de copias
Unidades de descripción relacionadas.
Descripciones relacionadas
Elemento notas
Identificador/es alternativo(os)
Área de control de la descripción
Objeto digital metadatos
Tamaño del archivo
570.9 KiB
Cargado
5 de agosto de 2021 09:59
Objeto digital (URI externo), área de permisos
Objeto digital (Referencia), área de permisos
Objeto digital (Miniatura), área de permisos