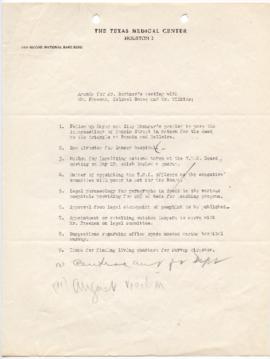 Correspondence About the Texas Medical Center
This folder contains correspondence related to the Texas Medical Center. Included are several exchanges of gratitude or recognition between Dr. Bertner and colleagues. Other correspondence deals with business and real estate dealings for the TMC. Baylor's awarding of an honorary degree to Dr. Bertner, the cornerstone laying of Methodist Hospital, and Jesse Jones' gift to the TMC Library are among the topics discussed. Correspondents include Susan Barnett (Assistant to the President of the TMC, Dr. Bertner), Jesse Jones, Hugh Roy Cullen, W. R. Wright, W. N. Blanton, and Dr. Paul Magnuson.
Barnett, Susan "Sue"